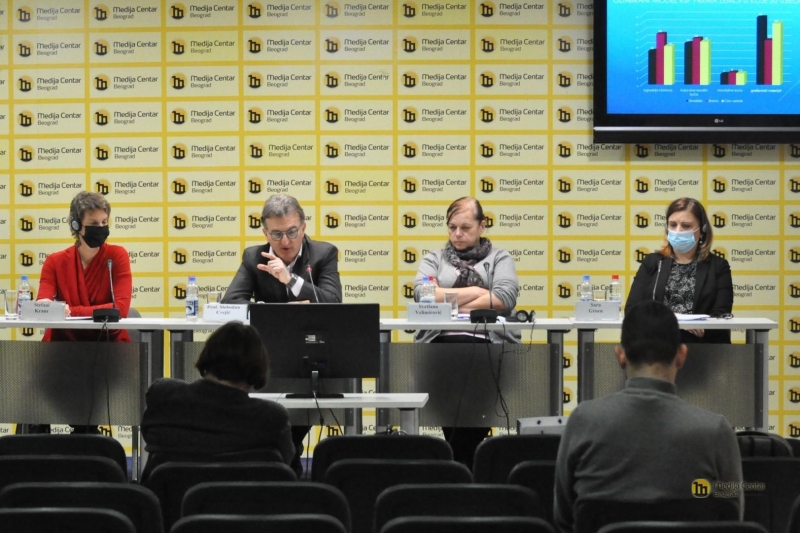 Report on the sustainability of the Regional Housing Program in Serbia presented
22.12.2021.
At the conference in the Media Center in Belgrade, on December 21, the Report on the Sustainability of the Solution of the Regional Housing Program in the Republic of Serbia was presented, compiled by Professor Slobodan Cvejić, as a part of a project supported by the Commissariat for Refugees and Migration, United Nations High Commissioner for Refuges (UNHCR) and the European Organization for Security and Co-operation(OSCE). Deputy Commissioner for Refugees and Migration Svetlana Velimirovic, Deputy Head of the OSCE Mission to Serbia Sarah Groen and UNHCR Deputy Representative in Serbia and Senior Officer in the Permanent Solutions Program Stefani Krause, and author of the report Professor Cvejić addressed the audience.
Svetlana Velimirović presented the basic data on the Regional Housing Program and the success of Serbia achieved in the field of refugee housing. This success is reflected in the fact that the donor community has collected 135 million euros for the implementation of the Program in Serbia, with a national contribution of 31 million euros. Also, the Commissariat, together with partners, has delivered 6,092 housing solutions (148 packages of construction materials, 313 prefabricated houses, 1,611 rural households, 1,917 built housing units, 103 purchased housing units) since the launch of the 2012 Program, continuing to provide solutions even during a pandemic. Velimirović pointed out that the Republic of Serbia actually takes care of already integrated persons, considering that 98% of the respondents told in this research that they solved the housing issue in the place of residence, where they fled. Sarah Groen and Stephanie Krause confirmed Serbia's success in the process of caring for and permanent integration of refugees, especially through the Regional Housing Program, and praised the efforts to address the housing needs of the most vulnerable refugee families. After that, prof. Cvejić presented the methodology and results of the research in detail.
You can view the report on the sustainability of the RSP solution here, and the full video of the conference here.